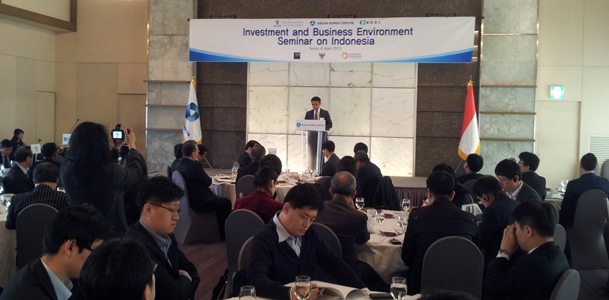 A seminar on Investment and business environment of Indonesia was held in Seoul and Busan on 8 and 9 April 2013 respectively. The Seminar was co-organized by the ASEAN Korea Center (AKC), the Indonesia Investment Coordinating Board (BKPM) and the Indonesian Embassy in Seoul.
The keynote speaker of the Seminar was Vice Chairman of BKPM. Speakers of the Seminar are from BKPM, Ministry of Industry, PT. Riset Perkebunan Nusantara and PT. Korindo. Around 120 businessmen attended the Seminar in Seoul while 50 businessmen attended the seminar in Busan.
Deputy Chief of Mission of Indonesia and Secretary General of AKC delivered their remarks which emphasizes on potency and strength of Indonesia as investment destination and encourage the businessman to utilize this opportunity to tap information on investment opportunities in Indonesia.
Presenters of the seminar presenting some information on potencies of Indonesia as one of the most promising investment destination since Indonesia is forecasted to be one of major economic power in the world in coming years. In general, presenters explained about investment regulations and incentives as well as potential investment opportunities, especially in the field of bio-energy, bio-mass, electronic component and automotive spare part.
Meanwhile, speaker from PT. Korindo presented Korindo's experience in doing business in Indonesia as a success story. PT. Korindo is one of Korean investor in Indonesia doing business in forestry and palm oil plantation.
The seminar was followed by one-on one meeting in which presenters and Korean businessmen had an opportunity to discuss further on investment opportunities related to bio-energy, bio-mass, electronic component and automotive spare part in Indonesia.