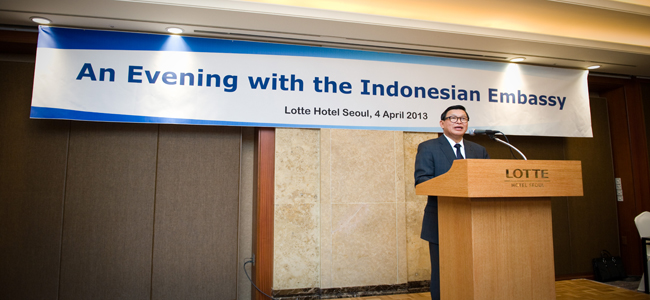 The Indonesian Embassy in Seoul has held "an evening with Indonesian Embassy" in Lotte Hotel Seoul on the 4th of April 2013. The said business and media gathering was embraced to have closer interaction between Indonesia with business, media and friends of Korea.
This occasion especially contributed to introduce H. E. John Prasetio as the new Ambassador of the Republic of Indonesia to the Republic of Korea as this event is the first business and media gathering held during his term. Meanwhile, since his arrival in South Korea in October 2012, Ambassador John Prasetio has been encountered with many CEOs of Companies and Media Companies in Seoul.
To welcome the guests, Ambassador John Prasetio delivers his remarks at the beginning of the gathering. He highlights the audience on the positive profile of Indonesian economy supported by its sound political stability. He also pointed out the strong growth of Indonesian economy of 6.2% in 2012 as the second highest growth among G-20 member after China. Currently as the largest economy in Southeast Asia and the 16th largest economy in the world, Indonesia aim to be the world's top 10 largest economies in the coming decades.
Supported by its huge and rich natural resources, prudent economy, large and educated workforces and growing middle income class, Indonesia is the perfect partner as the destination of Korea investors. Ambassador John updated the audience on the survey by JBIC in 2012 that categorized Indonesia as the third most promising destination, and invited Korean companies to enter Indonesia with the hope of having cooperation in the spirit of mutual benefit, respect and trust.
Ambassador John further expressed his enthusiasm of the special year of 2013 as the two countries celebrating its 40th anniversary of diplomatic relations. In celebrating this important year, the Embassy will hold a Gala Dinner on 25th September 2013, followed by a Business Forum on the following day. These two occasions will be attended by various prominent figures of Korea and Indonesia.The Indonesian Embassy is looking forward the support of Media, business community and society for the success of these two events.
Ambassador John closed his remarks by proposing a toast for the long live for Indonesia-Korea relations. Mrs. Jung-wha Choi, the President of Corea Image Communication Institute (CICI), has also proposed a toast on behalf of the guests. She expressed her close heart to Indonesia and believed on the enduring friendship between Indonesia and Korea.
During the gathering, guests also enjoyed the video presentation attracting the audience on the potency of Indonesia on investment and featuring the beauty of Indonesia through the dance in the video as well as the culture and the tourism attraction displayed.
Discussion during the gathering has shown the interests of companies of Korea on investing in Indonesia on construction and infrastructure, energy, sea port, plantation, industries and many more.