Headlines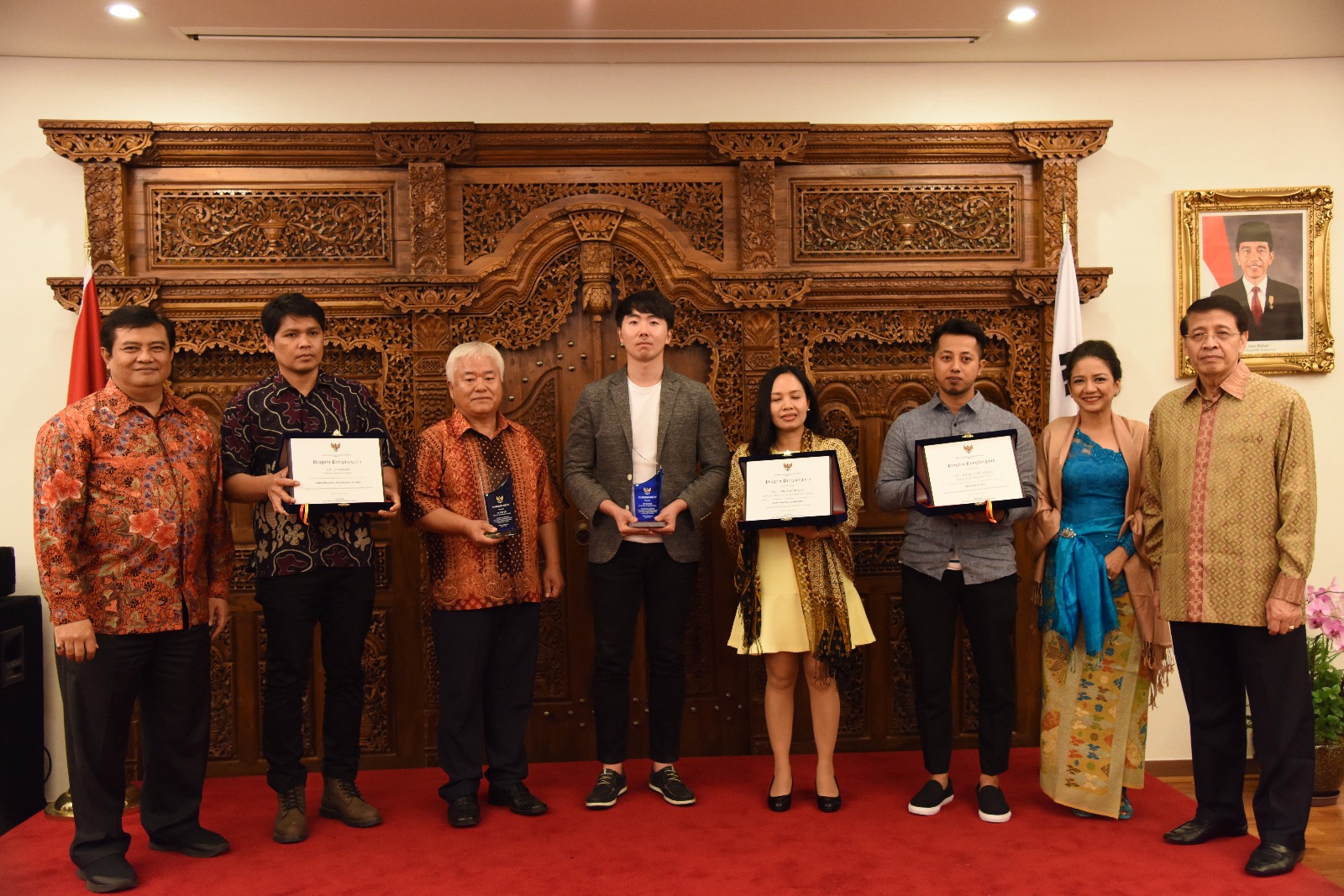 Yesterday afternoon, Ambassador Umar Hadi presented "Ambassador Award" to the two CEOs of Korean companies. Both CEOs were appreciated for giving appropriate rights to Indonesian workers. This is one way of how Indonesian Embassy protects its citizens.
The event that was held on Sunday afternoon (27/8) is the Embassy's annual event started last year, however this year event is more special. The CEOs do not only must fulfill the rights of the Indonesian workers, but there should not be any death case in the company also.
The awardees of 2017 Ambassador Award are Kim Moon-go (Senyeong Precise Engineering Co.) and Seo Bo-sung (Daewon GSI Co.). The first company has 11 Indonesian workers and produces gas stove and household appliances. The second company has 12 Indonesian workers focused in producing rice grinding machine. Since 2004/2005 the company only hires Indonesian workers.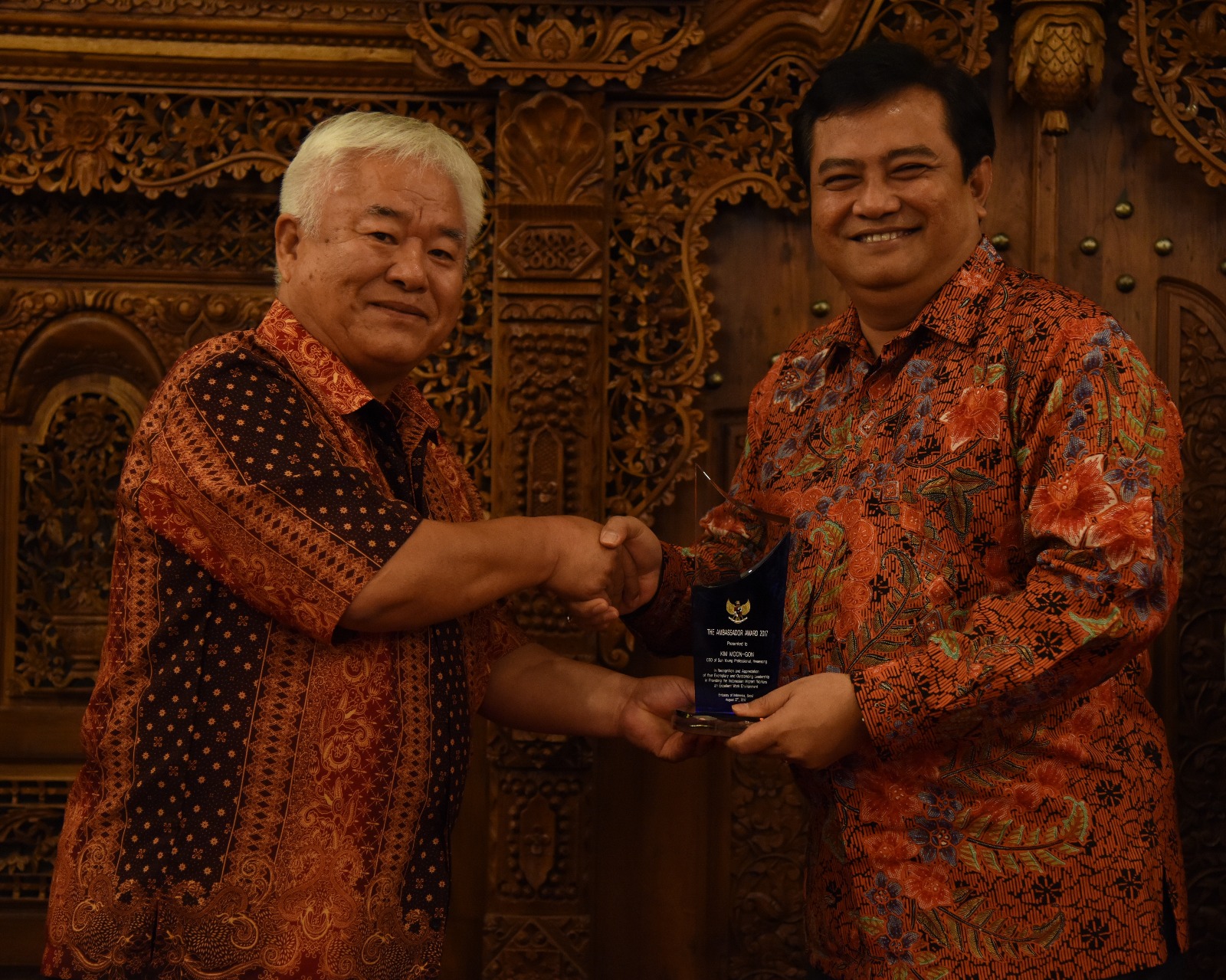 "To be honest, until now I never have any thought to hire non-Indonesian workers. They are warm-hearted, diligent and hard workers," said Kim Moon-go. "For me, I want to give them maximum facilities, so they can carry out their belief," said Seo Bo-sung on the stage.
Ambassador Umar Hadi underlined the importance of Ambassador Award because it can motivate other companies to do the same thing for 36.000 Indonesian workers currently working in Korea. Both CEOs has been selected through a tight selection done by a special team consists of Indonesian community organizations and Indonesian Embassy.
"On behalf of Indonesian Government, I would like to extend my gratitude and high appreciation to the CEOs. You have treated Indonesian workers so well. You are the inspirations for other CEOs. Other than award, I am pleased to provide both of you free ticket for your holiday in Indonesia," said the Ambassador followed by the applause of 200 guests attending the event in Wisma Duta, Indonesian Embassy.
On the other hand, Ambassador Umar Hadi is concerned for the tragedy that happened to Indonesian workers on the last two years. He said basically the safety of Indonesian workers in South Korea is relatively good, however it needs to be improved for their welfare. It is not about the number, but it is all about the prevention.
"Therefore, today I declare as the starting of the work safety and healthy campaign day. The Indonesian Embassy will do a systematic approach to the companies, Korean Government and also Indonesian workers. The target is no more victim. Indonesia workers have to be succeed in Korea and succeed as entrepreneurs when they go back to Indonesia," said the Ambassador.
According to the Coordinator of Information, Social, Culture and Public Diplomacy Affairs, M. Aji Surya, The Ambassador Awards 2017 are also awarded to 3 Indonesian citizens/workers. Hajat Febrianto is awarded as a Model Indonesian Worker, Suwardi is awarded as Diaspora dedicated for culture and the unity of Indonesian citizens in Korea, meanwhile Eko Darmiyanti is awarded as Diaspora dedicated for Indonesian workers in Korea. Each of the them received the Ambassador Award from the Embassy and 2 million won from BNI (Bank Negara Indonesia) and BPJS Ketenagakerjaan (Indonesia Employees Social Security System).
The selection of those 3 (three) Indonesian citizens was based on some criteria decided by Indonesian citizens representative in Korea. All the awardees are considered as the role models for other Indonesian workers and citizens.
"I wish all Indonesian workers always focus on the safety at work place. Do not forget to use helmet and other safety equipments," said Hajat. "I would also urge all Indonesian citizens in Korea to help each other to ease our the burden," saif Suwardi.
At the awarding night, which was attended by Former Indonesian Foreign Affairs Minister, Mr. Hasan Wirajuda, there was also the signing ceremony for the empowerment of Indonesian Workers project by Indonesian Embassy and BNI. Indonesian Embassy was represented by Coordinator of Protocol and Consular Affairs, Mr. Fuad Adriansyah, while BNI was represented by Managing Director of Institutional Relations, Mrs. Adi Sulistyowati.
Moreover, BNI also gives scholarships for 5 Indonesian workers who studies at the open University in South Korea for their great achievement and diligence.