Headlines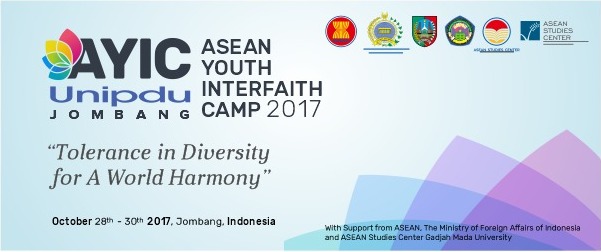 ASEAN YOUTH INTERFAITH CAMP (AYIC) 2017 October 28th - 30th, 2017 ASEAN Studies Center of Unipdu, Indonesia
With Support from ASEAN, The Ministry of Foreign Affairs-Republic of Indonesia and ASEAN Studies Center, Gadjah Mada University
ADMINISTRATIVE ARRANGEMENTS
1. General Information ASEAN Youth Interfaith Camp (AYIC) 2017 will be held on October 28th - 30th, 2017 in Pesantren Tinggi Darul Ulum University (Unipdu), Indonesia. This program is to be held for the first time and will carry theme of "Tolerance in Diversity for ASEAN Harmony".
The theme will be divided to various topics which mainly aim to discuss matters related to interfaith dialogue and cooperation, tolerance, balance, and moderate views. This program will welcome around 110 participants from ASEAN Member States as well as ASEAN Dialogue Partners.
AYIC 2017 will be proceeded into two-day of international conference and concluded with a cultural-art performance. The third day will be a field-trip session.
The program is organized and hosted by ASEAN Studies Center of Unipdu, with support from The Ministry of Foreign Affairs, Republic of Indonesia and ASEAN Studies Center, Gadjah Mada University.
2. Purposes
Introducing countermeasures to religion related intolerance, terrorism and radicalism to students

Providing access to youths on information related to diverse religious practice and tolerance in ASEAN

Introducing Indonesia's "Islam Nusantara Concept" as a prototype of tolerance among diversity in ASEAN

Enhancing youth networking and friendship among participants

Establishing sustainable cooperation among ASEAN Studies Centers.
3. Advantages
Participants can learn and share their views on issues related to diversity, tolerance in harmony;

Participants can learn first hand about cultures from fellow ASEAN member states and dialogue partners;

Participants will have the opportunity to communicate their ideas related to tolerance in diversity;

Participants will be involved in adventurous activities in various places in East-Java, Indonesia;

Participants are to be welcomed and experience local hospitality; 3.6 Certificate of participation from AYIC will be given at the end of the program.
4. Venue
The program is to be held at Islamic Center of Unipdu-Jombang, East Java, Indonesia. Address: Pesantren Tinggi Darul Ulum University Tromol Pos 10 Peterongan Jombang, 61481. East Java, Indonesia Phone: (+62) 321-873655 Email: This email address is being protected from spambots. You need JavaScript enabled to view it. Website: www.unipdu.ac.id / psa.unipdu.ac.id
5. Requirements of participant
Must be students (20 – 35 years old) from ASEAN member states and dialogue partners;

Good health (physically and mentally);

Good communication skill and knowledge (preferably in English);

Able to work independently as well as in team;

Able to commit to the program schedule;

Submitting a policy paper;

Fulfilling the required participation fee.
6. Policy Recommendation Paper
- The paper should be no more than 800 words; - Format template: Title, background and problem, objectives, method and process, findings and action plan; - All policy paper will be reviewed by the international panel of experts. Accepted paper will be published in the proceedings of AYIC program 2017 and presented in the conference day. - The paper should be sent by email: This email address is being protected from spambots. You need JavaScript enabled to view it. before 5 May 2017.
7. Important dates
| | |
| --- | --- |
| Date | Activity |
| 20 April - 31 August 2017 | Registration and submission of "policy paper" |
| 6 May 2017 | Notification of acceptance |
| 12 - 26 June 2017 | Payment of participation fee |
| July - August 2017 | Visa requirement |
| 28 - 30 October 2017 | Event of AYIC |
8. How to Apply
9. Contact Persons
For more information:
Chairperson: Ahmad Haybat Kannaby, S.Ip. Phone: +62 85773434344 Email: This email address is being protected from spambots. You need JavaScript enabled to view it. Event division Siti Urifah, S.Kep.Ns.MNS Phone: +6285606437666 Email: This email address is being protected from spambots. You need JavaScript enabled to view it. ASEAN Studies Center of Unipdu Phone: (+62) 321-873655, Fax: (0321)866631 Email: This email address is being protected from spambots. You need JavaScript enabled to view it. Website: psa.unipdu.ac.id
10. Funding Arrangements and Facilities
Airplane tickets Participants are kindly asked to arrange and fund their own air transport to Juanda International Airport.

Local Transportation Airport transfers and local transportation during the program will be provided. The committee also will provide Liaison Officer to pick up the participants from airport to Unipdu.

Accommodation Accommodation will be provided during the time of 27 – 30 October 2017 in Darul Ulum University Boarding House. As part of Islamic education in Darul Ulum University, the daily life in the Boarding House is based on Islamic Values. Participants are expected to respect as well as in daily activities of the House to gain insights of Islamic way of life. The organizer will only cover the room charge. All participants will be responsible for laundry, phone calls, internet connection (other than the one provided by the committee), facsimile, and other personal expenses. No reimbursement will be provided. The homestay for participants will be picked by the committee. The selected rooms will be given based on committee arrangements.

Meal Halal meal (Breakfast, Lunch and Dinner) will be provided during the program. If the participants come earlier than the date of the program (28 – 30 October 2017), the meal expenses will be covered by the participants.

International publication The papers will be peer reviewed by the international panel of experts. Accepted essay and report of the conference will be published in electronic proceedings in English language at the website: psa.unipdu.ac.id or committee will send by email to all participants around 15 November 2017.
11. Visa Requirements
Kindly contact to the nearest Embassy of Republic of Indonesia in your country to find out about the visa requirements or please check http:www.imigrasi.go.id for further information. Please note that all participants are required to have valid passports with expiry dates at least 6 months from the date of arrival in Indonesia. All expenses for visa will be covered by participants.
12. Dress Code
During conferences, the participants are expected to dress in casual smart attire. For the participants staying in Boarding House, they are expected to wear casual, modest attires (no tank top, no hot pants etc).
13. Internet Services
Free wireless internet service will be available at the venue of the program.
14. Medical Facilities
Unipdu will provide medical facilities. Participants are responsible for any medical cost incurring during their travel and during the program.
15. Miscellaneous
The weather forecast in Jombang region at the end of October is approximately 33°C (high) to 23°C (low), with the chance of 47% sunny days and 11% chance of rainy days.

The plug-in for electronic device in Indonesia is two pin model (Europlug). The electricity voltage is 220V.

The standardized local SIM Card for hand phones in Indonesia is GSM. Participants can purchase SIM cards at the airport or any major shopping outlets.

The local currency is Indonesian Rupiah (IDR). Most places only use IDR for cash transactions. Credit and debit cards are widely used at the airport. USD 1.00 is equivalent to approximately IDR 13,081.56.