Headlines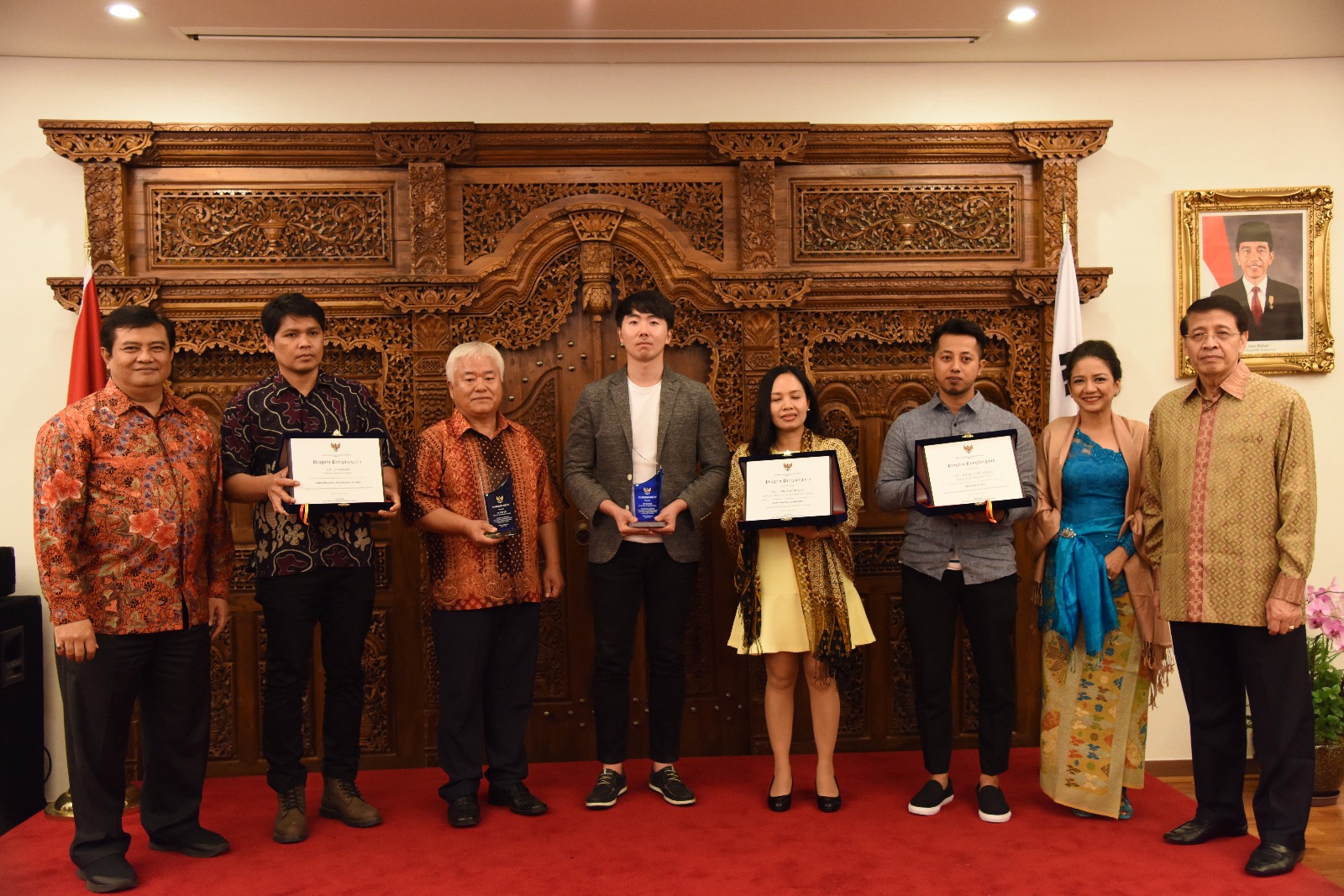 Yesterday afternoon, Ambassador Umar Hadi presented "Ambassador Award" to the two CEOs of Korean companies. Both CEOs were appreciated for giving appropriate rights to Indonesian workers. This is one way of how Indonesian Embassy protects its citizens.
The event that was held on Sunday afternoon (27/8) is the Embassy's annual event started last year, however this year event is more special. The CEOs do not only must fulfill the rights of the Indonesian workers, but there should not be any death case in the company also.
The awardees of 2017 Ambassador Award are Kim Moon-go (Senyeong Precise Engineering Co.) and Seo Bo-sung (Daewon GSI Co.). The first company has 11 Indonesian workers and produces gas stove and household appliances. The second company has 12 Indonesian workers focused in producing rice grinding machine. Since 2004/2005 the company only hires Indonesian workers.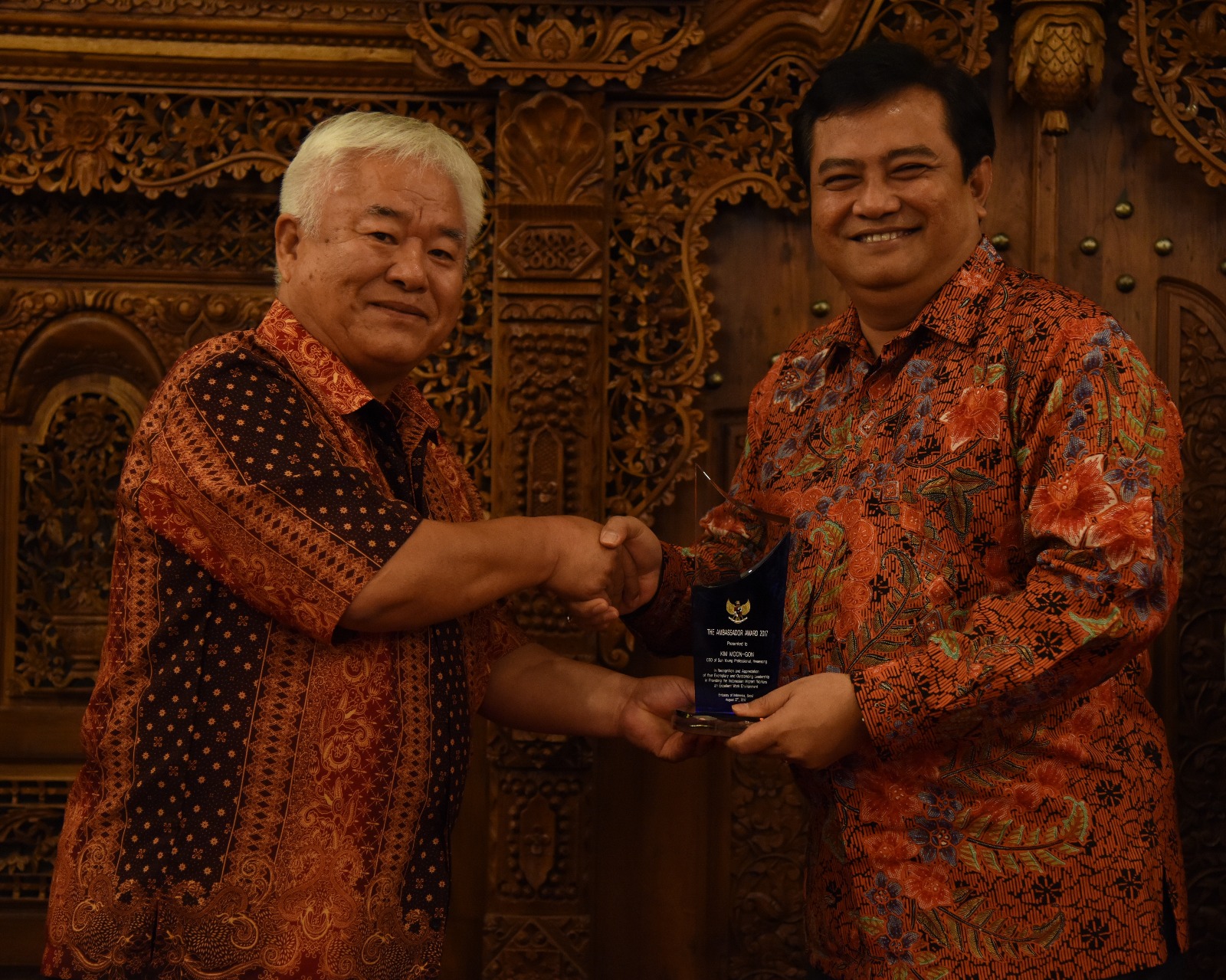 "To be honest, until now I never have any thought to hire non-Indonesian workers. They are warm-hearted, diligent and hard workers," said Kim Moon-go. "For me, I want to give them maximum facilities, so they can carry out their belief," said Seo Bo-sung on the stage.
Ambassador Umar Hadi underlined the importance of Ambassador Award because it can motivate other companies to do the same thing for 36.000 Indonesian workers currently working in Korea. Both CEOs has been selected through a tight selection done by a special team consists of Indonesian community organizations and Indonesian Embassy.
"On behalf of Indonesian Government, I would like to extend my gratitude and high appreciation to the CEOs. You have treated Indonesian workers so well. You are the inspirations for other CEOs. Other than award, I am pleased to provide both of you free ticket for your holiday in Indonesia," said the Ambassador followed by the applause of 200 guests attending the event in Wisma Duta, Indonesian Embassy.
On the other hand, Ambassador Umar Hadi is concerned for the tragedy that happened to Indonesian workers on the last two years. He said basically the safety of Indonesian workers in South Korea is relatively good, however it needs to be improved for their welfare. It is not about the number, but it is all about the prevention.
"Therefore, today I declare as the starting of the work safety and healthy campaign day. The Indonesian Embassy will do a systematic approach to the companies, Korean Government and also Indonesian workers. The target is no more victim. Indonesia workers have to be succeed in Korea and succeed as entrepreneurs when they go back to Indonesia," said the Ambassador.
According to the Coordinator of Information, Social, Culture and Public Diplomacy Affairs, M. Aji Surya, The Ambassador Awards 2017 are also awarded to 3 Indonesian citizens/workers. Hajat Febrianto is awarded as a Model Indonesian Worker, Suwardi is awarded as Diaspora dedicated for culture and the unity of Indonesian citizens in Korea, meanwhile Eko Darmiyanti is awarded as Diaspora dedicated for Indonesian workers in Korea. Each of the them received the Ambassador Award from the Embassy and 2 million won from BNI (Bank Negara Indonesia) and BPJS Ketenagakerjaan (Indonesia Employees Social Security System).
The selection of those 3 (three) Indonesian citizens was based on some criteria decided by Indonesian citizens representative in Korea. All the awardees are considered as the role models for other Indonesian workers and citizens.
"I wish all Indonesian workers always focus on the safety at work place. Do not forget to use helmet and other safety equipments," said Hajat. "I would also urge all Indonesian citizens in Korea to help each other to ease our the burden," saif Suwardi.
At the awarding night, which was attended by Former Indonesian Foreign Affairs Minister, Mr. Hasan Wirajuda, there was also the signing ceremony for the empowerment of Indonesian Workers project by Indonesian Embassy and BNI. Indonesian Embassy was represented by Coordinator of Protocol and Consular Affairs, Mr. Fuad Adriansyah, while BNI was represented by Managing Director of Institutional Relations, Mrs. Adi Sulistyowati.
Moreover, BNI also gives scholarships for 5 Indonesian workers who studies at the open University in South Korea for their great achievement and diligence.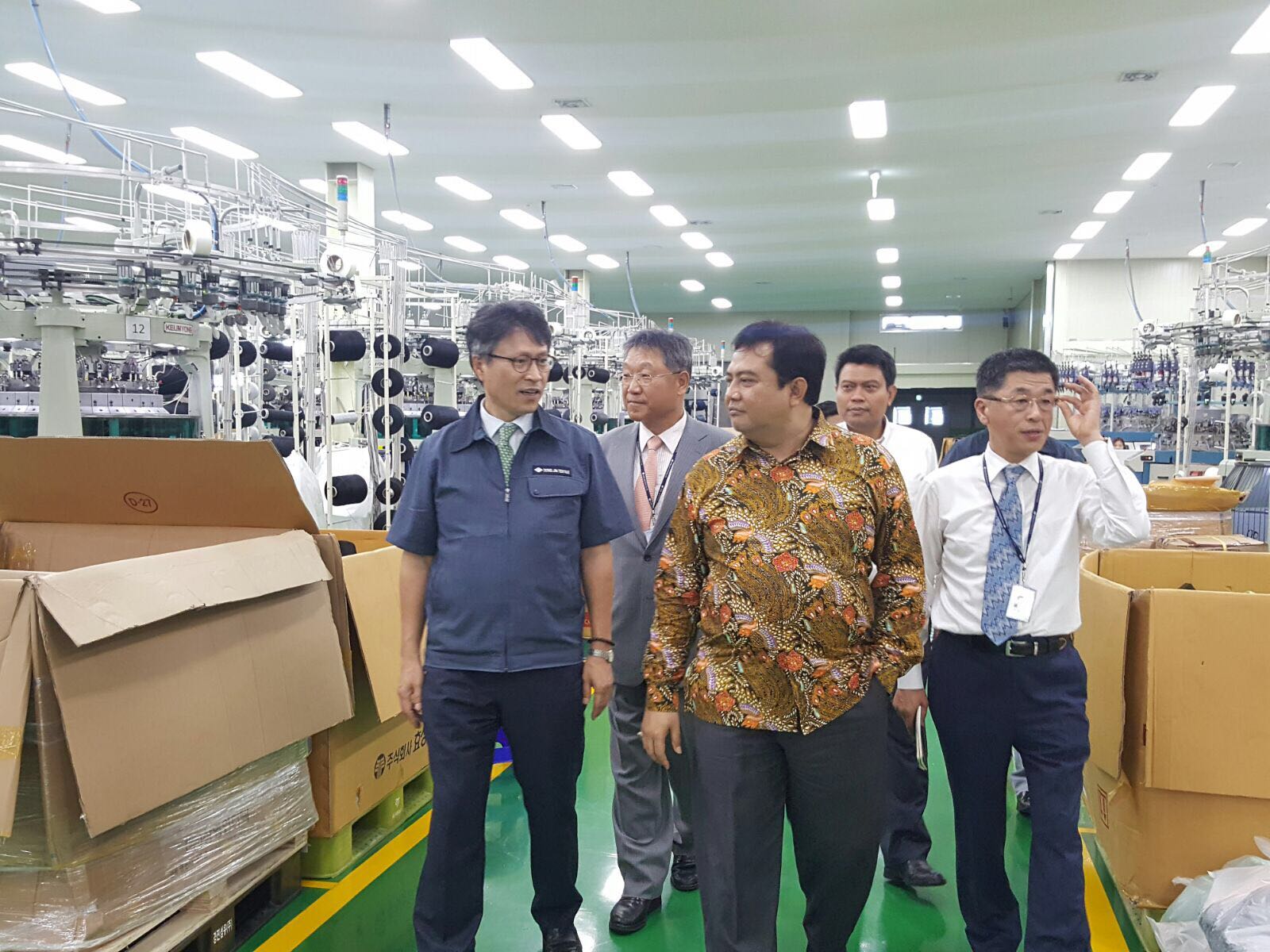 PT Dong-Jin Textile Indonesia, a foreign capital company from Korea, will start producing textile for sneakers in Karawang, West Java, on 2019. Planning to invest around Rp. 330 billion, the company next year will start the construction of the factory in the Karawang Industrial Complex.
The statement was delivered directly by the CEO of Dong-Jing Textile Co., LTD, Choi Woo-chui, during the visit of Ambassador Umar Hadi to his office in Busan on Wednesday (23/8). The Ambassador and Choi discusses the development method of his venture in Indonesia.
H.E. Umar Hadi expressed his interest saying that the investment in South Korea not only absorb a lot of work force but also has a role as an import substitute which at once increase the export comodities.
"Indonesian Embassy will help to connect the companies with education institutes such as vocational school and Institute of Textile in Indonesia, so they can recruit skilled employee," said Ambassador Umar Hadi.
The CEO of DOng-jin explained that his factory in Karawang will become the fourt built outside of Korea. The other factories has been built and is in production in Vietnam. The product from Dong-jin is syntetic textile for sneakers and mainly become the supply for famous brand such as Nike and Adidas.
The factory built in Karawang will applied the standard technology similar to those in South Korea, including for the waste treatment. So, it will be safe for the environment.
During the visit to Dong-jin Factory, Ambassador Umar Hadi was introduced to 8 Indonesian workers who are working in the factory. Imam (27) from Ngawi, Central Java, who has worked there for about 2 years, said that even though the job is tough, he is glad that the salary is acceptable. Moreover he canstay in a dorm near the factory and get 3 times meals. "We don't have any complain," he said to Ambassador Umar Hadi.
Ambassador Umar Hadi wished Imam and other Indonesia workers to stay healthy and keep the discipline for safety. "After completing the contact, you have to go back to your hometown with more exprerience and savings, so you can open your own business" said the Ambassador.
Currently, there are about 2000 Korean companies doing business in Indonesia. And at the same time, 36.000 Indonesian workers working in various companies in South Korea.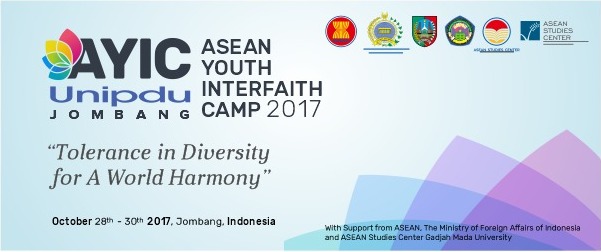 ASEAN YOUTH INTERFAITH CAMP (AYIC) 2017 October 28th - 30th, 2017 ASEAN Studies Center of Unipdu, Indonesia
With Support from ASEAN, The Ministry of Foreign Affairs-Republic of Indonesia and ASEAN Studies Center, Gadjah Mada University
ADMINISTRATIVE ARRANGEMENTS
1. General Information ASEAN Youth Interfaith Camp (AYIC) 2017 will be held on October 28th - 30th, 2017 in Pesantren Tinggi Darul Ulum University (Unipdu), Indonesia. This program is to be held for the first time and will carry theme of "Tolerance in Diversity for ASEAN Harmony".
The theme will be divided to various topics which mainly aim to discuss matters related to interfaith dialogue and cooperation, tolerance, balance, and moderate views. This program will welcome around 110 participants from ASEAN Member States as well as ASEAN Dialogue Partners.
AYIC 2017 will be proceeded into two-day of international conference and concluded with a cultural-art performance. The third day will be a field-trip session.
The program is organized and hosted by ASEAN Studies Center of Unipdu, with support from The Ministry of Foreign Affairs, Republic of Indonesia and ASEAN Studies Center, Gadjah Mada University.
2. Purposes
Introducing countermeasures to religion related intolerance, terrorism and radicalism to students

Providing access to youths on information related to diverse religious practice and tolerance in ASEAN

Introducing Indonesia's "Islam Nusantara Concept" as a prototype of tolerance among diversity in ASEAN

Enhancing youth networking and friendship among participants

Establishing sustainable cooperation among ASEAN Studies Centers.
3. Advantages
Participants can learn and share their views on issues related to diversity, tolerance in harmony;

Participants can learn first hand about cultures from fellow ASEAN member states and dialogue partners;

Participants will have the opportunity to communicate their ideas related to tolerance in diversity;

Participants will be involved in adventurous activities in various places in East-Java, Indonesia;

Participants are to be welcomed and experience local hospitality; 3.6 Certificate of participation from AYIC will be given at the end of the program.
4. Venue
The program is to be held at Islamic Center of Unipdu-Jombang, East Java, Indonesia. Address: Pesantren Tinggi Darul Ulum University Tromol Pos 10 Peterongan Jombang, 61481. East Java, Indonesia Phone: (+62) 321-873655 Email: This email address is being protected from spambots. You need JavaScript enabled to view it. Website: www.unipdu.ac.id / psa.unipdu.ac.id
5. Requirements of participant
Must be students (20 – 35 years old) from ASEAN member states and dialogue partners;

Good health (physically and mentally);

Good communication skill and knowledge (preferably in English);

Able to work independently as well as in team;

Able to commit to the program schedule;

Submitting a policy paper;

Fulfilling the required participation fee.
6. Policy Recommendation Paper
- The paper should be no more than 800 words; - Format template: Title, background and problem, objectives, method and process, findings and action plan; - All policy paper will be reviewed by the international panel of experts. Accepted paper will be published in the proceedings of AYIC program 2017 and presented in the conference day. - The paper should be sent by email: This email address is being protected from spambots. You need JavaScript enabled to view it. before 5 May 2017.
7. Important dates
| | |
| --- | --- |
| Date | Activity |
| 20 April - 31 August 2017 | Registration and submission of "policy paper" |
| 6 May 2017 | Notification of acceptance |
| 12 - 26 June 2017 | Payment of participation fee |
| July - August 2017 | Visa requirement |
| 28 - 30 October 2017 | Event of AYIC |
8. How to Apply
9. Contact Persons
For more information:
Chairperson: Ahmad Haybat Kannaby, S.Ip. Phone: +62 85773434344 Email: This email address is being protected from spambots. You need JavaScript enabled to view it. Event division Siti Urifah, S.Kep.Ns.MNS Phone: +6285606437666 Email: This email address is being protected from spambots. You need JavaScript enabled to view it. ASEAN Studies Center of Unipdu Phone: (+62) 321-873655, Fax: (0321)866631 Email: This email address is being protected from spambots. You need JavaScript enabled to view it. Website: psa.unipdu.ac.id
10. Funding Arrangements and Facilities
Airplane tickets Participants are kindly asked to arrange and fund their own air transport to Juanda International Airport.

Local Transportation Airport transfers and local transportation during the program will be provided. The committee also will provide Liaison Officer to pick up the participants from airport to Unipdu.

Accommodation Accommodation will be provided during the time of 27 – 30 October 2017 in Darul Ulum University Boarding House. As part of Islamic education in Darul Ulum University, the daily life in the Boarding House is based on Islamic Values. Participants are expected to respect as well as in daily activities of the House to gain insights of Islamic way of life. The organizer will only cover the room charge. All participants will be responsible for laundry, phone calls, internet connection (other than the one provided by the committee), facsimile, and other personal expenses. No reimbursement will be provided. The homestay for participants will be picked by the committee. The selected rooms will be given based on committee arrangements.

Meal Halal meal (Breakfast, Lunch and Dinner) will be provided during the program. If the participants come earlier than the date of the program (28 – 30 October 2017), the meal expenses will be covered by the participants.

International publication The papers will be peer reviewed by the international panel of experts. Accepted essay and report of the conference will be published in electronic proceedings in English language at the website: psa.unipdu.ac.id or committee will send by email to all participants around 15 November 2017.
11. Visa Requirements
Kindly contact to the nearest Embassy of Republic of Indonesia in your country to find out about the visa requirements or please check http:www.imigrasi.go.id for further information. Please note that all participants are required to have valid passports with expiry dates at least 6 months from the date of arrival in Indonesia. All expenses for visa will be covered by participants.
12. Dress Code
During conferences, the participants are expected to dress in casual smart attire. For the participants staying in Boarding House, they are expected to wear casual, modest attires (no tank top, no hot pants etc).
13. Internet Services
Free wireless internet service will be available at the venue of the program.
14. Medical Facilities
Unipdu will provide medical facilities. Participants are responsible for any medical cost incurring during their travel and during the program.
15. Miscellaneous
The weather forecast in Jombang region at the end of October is approximately 33°C (high) to 23°C (low), with the chance of 47% sunny days and 11% chance of rainy days.

The plug-in for electronic device in Indonesia is two pin model (Europlug). The electricity voltage is 220V.

The standardized local SIM Card for hand phones in Indonesia is GSM. Participants can purchase SIM cards at the airport or any major shopping outlets.

The local currency is Indonesian Rupiah (IDR). Most places only use IDR for cash transactions. Credit and debit cards are widely used at the airport. USD 1.00 is equivalent to approximately IDR 13,081.56.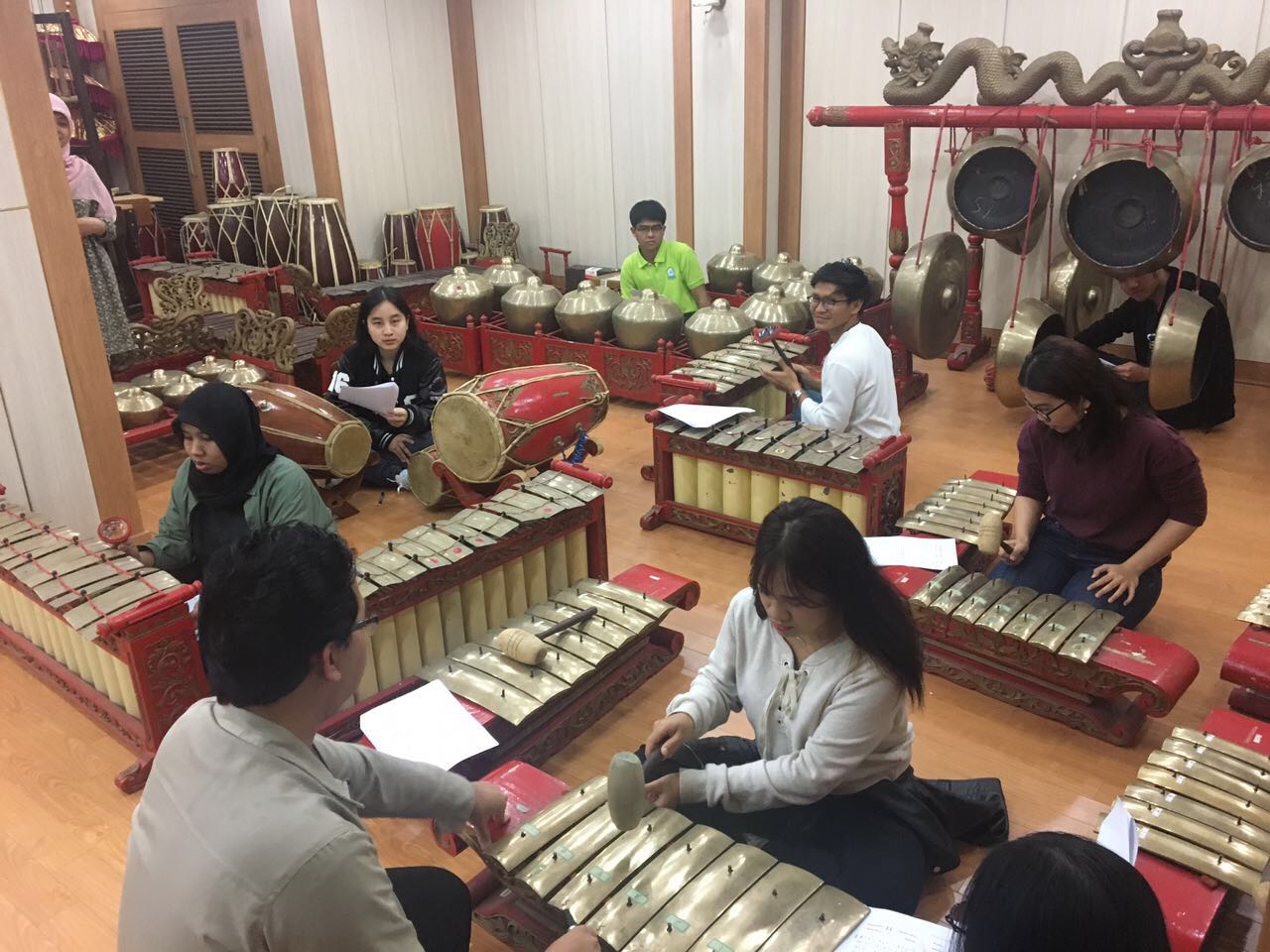 After having success with the gamelan class which opened to the public on May 13, 2017, the Embassy of the Republic of Indonesia in Seoul (KBRI Seoul) is set to open a special Javanese gamelan class for South Koreans.
This new program is introduced by Education, Social Culture, and Public Diplomacy Affairs of the Embassy of the Republic of Indonesia in Seoul after learning the growing interest of South Korean youths towards Indonesia. Starting in the middle of next month, some of the participants are expected to start the practice of playing gamelan music.
"There are a lot of South Korean youth who have received scholarships in Indonesia and taking Indonesian Language program at various universities in Korea. They are all thirsty to learn more about Indonesian culture," said Ambassador Umar Hadi.
Based on Indonesia Embassy's records, since 2009 there have been at least 196 Korean youth who have received Indonesian language and culture education through Dharmasiswa scholarship. They are scattered all over the country.
According to Sugianto, the coach of gamelan at KBRI Seoul, there are already 5 Koreans who apply for the gamelan courses. One among them is a professor and lecturer of traditional Korean music at Chonnam National University. The Embassy hopes that the first phase will be followed by 15 Korean participants. As the course progress forward, participants will also learn to collaborate gamelan with modern music.
Given the large number of Koreans who are interested in Indonesian culture, the Embassy will intensify gamelan courses and discussions about Indonesian culture. The Embassy also hope to work together with the local government in Indonesia to introduce Indonesian Culture.
Since the arrival of the gamelan coach from Indonesia six months ago, the Indonesian Embassy in Seoul has conducted regular gamelan exercises with Indonesian citizen in Korea. They have even appeared several times on the official event of Government of the Republic of Korea.
Ambassador Umar Hadi has given a name for the gamelan group at the Embassy with the name "Laras GARIS". The word "Larasl" has the meaning of the tone or sound of music, while the word "GARIS" stands for "Gamelan KBRI Seoul". Thus, the name of Laras GARIS group is an interpretation of the beautiful tones of the Embassy of the Republic of Indonesia in Seoul. ()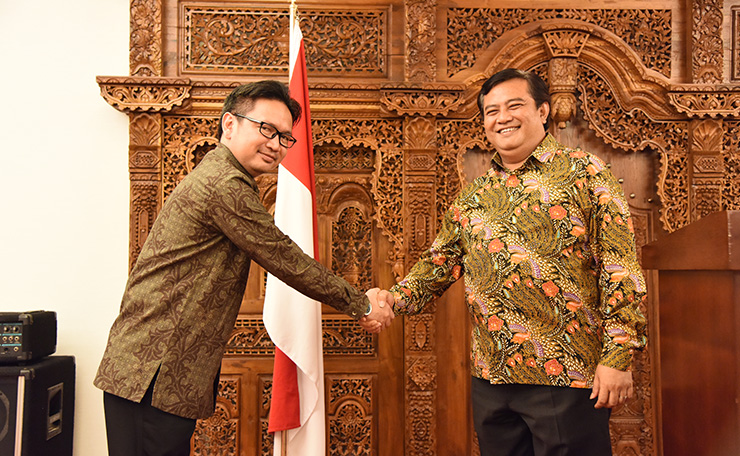 The public service has become the commitment of the Indonesian Government. Hence, the Indonesian Embassy in Seoul is trying to improve its service by assigning an Immigration Attaché.
In the inauguration ceremony of the Immigration Attaché, Mr. Sugito at the Indonesian Embassy in Seoul on 31July 2017, Indonesian Ambassador Umar Hadi emphasized the importance of citizen protection and service by compiling anaccurate database of Indonesian citizens. Thus, the services and policies can be in line with the target and avoidinefficiency.
"Out of approximately 40,000 Indonesian Citizens in South Korea, 36,000 are workers with their education levels starting from junior high schools to undergraduates, and scattered almost evenly across South Korea.Thus, it needs to establish an appropriate system of services and facilities respecting to the conditions of Indonesian citizens in South Korea,"he said.
The existence of Immigration Attaché at the Indonesian Embassy in Seoul also will be the initial step of enforcing theImmigration Managementand Information System (SIMKIM), as it is also applied in someIndonesian representatives abroad. SIMKIM is a systemwhich is built to improve the service and quality of travel documents so that it becomes more secure and in accordance with the international standards. A good quality of travel document will give assurance forthepassport holders in traveling abroad.
It is realized that the implementation of SIMKIM will cause changes in procedures, time and quality of work compared tothe procedures previouslypracticed. Therefore, it is necessary to carry out the socialization and information dissemination to Indonesian citizens in South Korea about the benefits and significance of SIMKIM as an effort to improve the citizenservice and protection.
"Bymaking a comprehensive planning and collaborating with all parties, challenges and problems can be resolved," added the Ambassador.
Since 2014, the Indonesian Embassy in Seoul has implemented an online system for passport extension and visaapplication. In addition, since last year the applicationfor citizen protection has beenintroduced which is called M KBRI Seoul. Both services have been provenfor giving good quality of services with a public satisfaction level above 80 percent.