Korean wave helps draw more tourists from Indonesia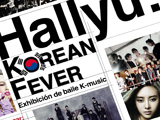 The Korea Tourism Organization (KTO) said that the number of Indonesian tourists continued to increase every year amid the growing popularity of Korean music and movies in the country.KTO director for Incentives and Exhibition Team Helen Shim said that as many as 125,000 Indonesians visited Korea throughout 2011, an approximate 15 percent growth compared to 2010."Indonesians are becoming more enthusiastic about visiting Korea each year because we have a lot to offer. We expect some 150,000 tourists from Indonesia will visit Korea in 2012," Helen told The Jakarta Post on the
sidelines of the recent Meeting, Incentives, Convention, and Exhibition (MICE) Korea Roadshow in Jakarta.
Korea offers tour programs, which are usually offered based on themes and interests. Many Indonesians love the Korean drama star tourism and K-Pop venues, besides the world heritage, city tour and shopping programs.
With the growing popularity of Korean pop culture, there is also increasing interest from Indonesians in Korean language, culture and food.
Helen's statement was in line with KTO Jakarta office marketing manager Dwi Hapsari Mintorahardjo, who said that the strong enthusiasm could be seen from Indonesians who visited the KTO booth during the country's largest international travel fair last week.
"Some 3,000 people visited our booth and they asked a lot about how to go to Korea and about the tour packages that they might take," she said.
In addition, in order to attract more MICE tourists from Indonesia, Helen said that the KTO would begin providing tourism guide books in Indonesian starting this year.
The books previously had been printed in English, Chinese and Japanese, she said.
"We do believe that Indonesia will become one of our largest tourism markets after China, Japan, and the US in the future," she said.
This year, the MICE Korea Roadshow was not only held in Jakarta, but also in Medan, North Sumatra.
As the third largest city in Indonesia, which will be home to Kuala Namu International Airport by the end of this year, Medan was a great market, she said.
Another factor that helped increase the number of Indonesian tourists visiting Korea was the connectivity between the two countries.
Besides Korean Air, national flag carrier Garuda Indonesia has increased its flight frequencies since last year for the Jakarta – Seoul route, from six to seven times a week, and the Denpasar – Seoul route, from five to seven times a week.
In a separate interview, the Tourism and Creative Economy Ministry's marketing director Budi Pakarti said that the number of Korean tourists visiting Indonesia each year was also increasing.
"In the Asian region, Korea is definitely one of our largest markets besides China, Japan, India and other Southeast Asian countries," Budi told the Post.
Based on the Central Statistics Agency (BPS), there were 256,522 tourists from Korea in 2009, but the number rose to 274,999 in 2010.
The data also indicated that Korean guests tended to stay longer in Indonesia each year, up from 5.49 days in 2009 to 5.93 days in 2010.
According to Helen, the Bali honeymoon package had been the favorite tour package among Koreans over the past several years. (nfo)The Jakarta Post
---