Foreign tourists could reach 10 million in 2014, Mari says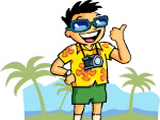 Although there is economic crisis in Europe, a key foreign tourist market of Indonesian that has showed no sign of a quick recovery, the government is upbeat that the number of foreign tourists will reach 10 million in 2014.The figure shows a 25 percent increase from the target the government set for this year, well above the average annual growth of the past five years.According to data provided by the National Statistics Agency (BPS), the number of foreign tourist arrivals grew by 8.5 percent annually during the past five years. The highest growth was recorded in 2008 when Indonesia saw a 13
percent rise in tourist arrivals to 6.23 million from 5.5 million in 2007. The slowest growth, however, occurred in the following year when Indonesia could only attract 6.32 million tourists, only a 1.4 percent increase from 2008.
Tourism and Creative Economy Minister Mari Elka Pangestu said that the increase in foreign tourist arrivals from Asia such as Malaysia, Thailand, China, South Korea, Taiwan, Australia and Russia would be able to offset the fall in tourists from Europe.
"I know it's not easy to bring in 10 million tourists in tough times, but our markets in Asia, Australia and Russia remain strong," Mari said in Jakarta recently on the sidelines of the first National Coordinating Meeting (Rakornas) on the creative economy with heads of tourism offices across the country.
"We see the huge potential of this market and I have to admit that we have not managed it to its maximum. So, we are going to work very hard to better manage this market in order to reach the target."
Mari said special attention should be given to attracting more tourists from China. Outbound tourists from that country reached a total of 70 million people last year, but Indonesia was only able to able grab 500,000 of them.
Mari said she was upbeat about 2014, when the number of Chinese tourists visiting Indonesia would double to one million.
"By looking at the [70 million] figure that is expected to continue to rise, we are very optimistic that we can reach our target," she went on.
In addition, according to recent data from the BPS, the number of Chinese tourists visiting the country in the first nine months of 2012 grew by 24.19 percent to 461,756 compared to the same period last year.
Double digit growth was also recorded from several other countries surveyed by the agency, such as Thailand and Philippines, with 13.39 percent and 12.82 percent growth respectively, during January to
September 2012.
She said that the ministry would conduct different marketing strategies and promotion in order to attract more tourists from the targeted market in the next two years.
"We have to start creating packages that they want and promote it well; whether it is shopping, culinary tourism, or Buddhist temple tours," she said.
Association of Indonesian Tour and Travel Agencies (Asita) chairman Asnawi Bahar said that the government would be able to reach the target if it could maximize potential in Middle Eastern countries, especially Saudi Arabia.
"During the haj season, Saudis love to travel. This is the best time for us to take advantage and grab the market because they are long-stay tourists," Asnawi told The Jakarta Post on Saturday.
He also said that the government should improve the meetings, incentives, conventions and exhibitions (MICE) sector, including
sports tourism infrastructure, in the next two years to reach the 10 million target.
"Combining golf with tourism packages during low season will help compensate the declining number of tourists from Europe. Korea is an Asian country with people who love golf and they tend to travel abroad to do this sport," he said.
The government sets targets on foreign tourist arrivals every year, but data shows that it found it difficult to reach those targets.
Throughout last year, BPS data showed that Indonesia attracted 7.65 million foreign tourists, slightly less than the 7.7 million target. The same occurred in 2009 when the number of foreign arrivals stood at 6.32 million, a little less than the 6.4 million target.
However, the government reached its target in 2010 when it brought 7 million foreign tourists to the country, up from 6.32 million in 2009.(The Jakarta Post)