News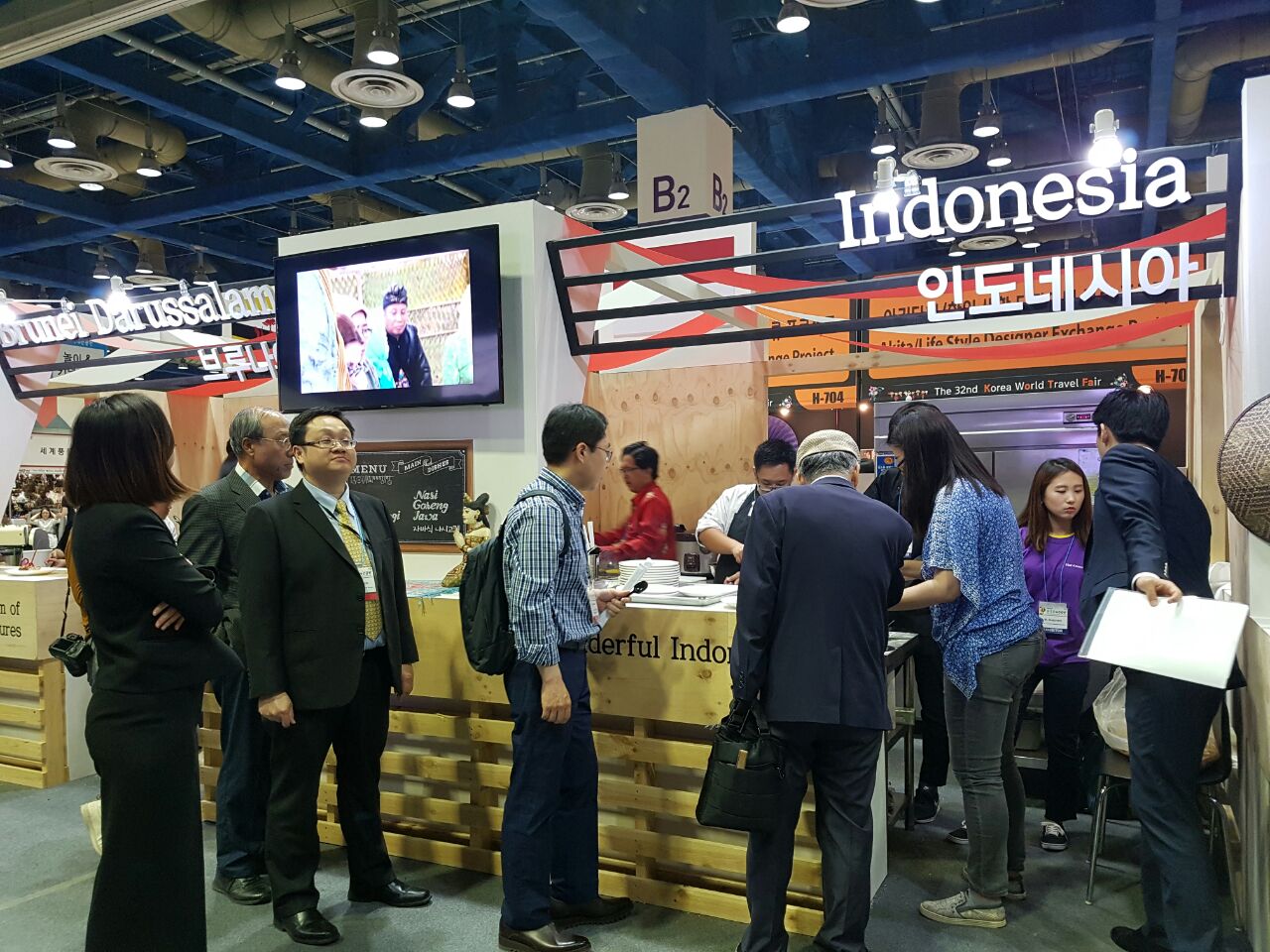 Nasi Goreng Jawa and Sate Maranggi represented the Indonesian culinary to be served in the ASEAN Culinary Festival (1/6-4/6), held in COEX, Seoul. The ASEAN Culinary Festival organized by ASEAN-Korea Center (AKC) to offer people a chance to try the traditional food cooked by professional chefs from 10 ASEAN countries including Indonesia.

The chefs and the organizer aimed to bring out the distinct "traditional" flavors of each country.
"There are ways to make the dishes more modern, but we made them as traditional as possible, because we wanted to show what's most common first," said Chef Budi Kurniawan who cooked for the Indonesian booth. "We wanted to show people the taste that's commonly available not only at restaurants, but also on the street."
Sate Maranggi and Nasi Goreng Jawa received a lot of attention and praise from the visitors. The food lovers were curious about Sate Maranggi for its distinctiveness with other sate, or how to make Nasi Goreng Jawa. Some visitors even wanted to buy more Sate Maranggi despite the free-coupon to taste the food.
To offer more to the culinary event, the festival also offered coffee and tea made with beans and leaves from 10 different countries. The "Barista Show" demonstrated how to make coffee while explaining each country's unique variations of the drink.
Indonesia specially sent Gayo coffee for this event. According to Hwang Ho-rim, a coffee expert who roasted beans and prepared coffee for the event, the Gayo coffee of Indonesia had a good balance of sweet and sour flavor. "Each country has its own characteristics and this is a good chance to compare different flavorsin the same place," said Hwang.
"Everybody can search and you can find all kinds of information, but you can't google taste," said William Wongso, an Indonesian culinary expert who was among the VIPs in the opening ceremony held in Friday (2/6). "Food is easier to share than any other cultural item, and it can lead people to have a better understanding of other things, like economy," he said, because food is an everyday item.
The event is an extension of the culinary festival the AKC hosted last year. This year's event is more meaningful as ASEAN is celebrating its 50-year anniversary. The ASEAN has designated this year as Visit Asean Year and has been working attract more visitors to its countries.
"Food has become one of the strongest attractions for tourism, and ASEAN food will inspire Koreans to travel to ASEAN, a region which is simply put, a food heaven," said Secretary-General Kim Young-sun of the ASEAN-Korean Centre.
This ASEAN Culinary Festival took place in 1-4 June 2017 in COEX, Seoul. This festival was as part of the 32nd Korea World Travel Fair (KOTFA). For four days, the Festival gathered more than 4 thousands visitors at the KOTFA.